Red tape reduction doesn't have to slow just because the Federal Budget has cut department spending. In fact, with some understanding of process management, it can help ease the pressure.
In our experience, other red tape reduction projects often worked hard to dissociate themselves from efficiency projects – for fear staff would see their jobs as under threat, when the objective was actually restricted to reducing red tape.
But after the 2014-15 Federal Budget, the first incarnation of red tape reduction in the Australian Public Service should get a real kick along.
The reason? How well public servants manage processes that affect clients, companies and consumers can have a massive effect on both red tape and the amount of time and effort necessary to fulfil their purpose. And if you can reduce time and effort and red tape at the same time, you've hit an APS jackpot. Because time and effort directly relate to staff and spending.
How red tape and process efficiency interact
Consider a generic process that interacts with a customer, then goes through 4 stages to completion. The customer is waiting for that completion. It could be an application, a licence, regulatory approval, mandatory reporting or similar.
Where a process like this stops and goes back to the customer for more information, it creates unnecessary rework for staff. But it also creates more administrative time cost to the customer to supply the extra information. And it adds to the unnecessary delay time they have to put up with till their service needs are met. That extra delay time and administrative time are part of the red tape burden borne by the customer. They only occur because the process isn't managed properly.

The same thing occurs when someone makes an error early in the process and someone at a later step sends it back to them to fix. More unnecessary delay time. And more unnecessary rework for staff.

And what happens where a worker doesn't have the skills for their job, or is just poorly supervised? They may sit on the application, or just take much longer than necessary. This too, adds to delay time, and is a waste of a person's time and talent that could be used on another item.

But it doesn't stop there. If the delay is enough, the customer will ring or email to follow-up. More time wasted for them (red tape), but more work in responding to their query for frontline staff (unnecessary work). And if it goes on long enough, customers may ring multiple times, clogging call centres and frontline staff time.
Getting the errors fixed, the right information up front, supervision right and staff training right means less red tape (in this example, administration cost and delay cost). It also means you can do more with the same level of staff, because you've got rid of a lot of work that is just self-imposed rework.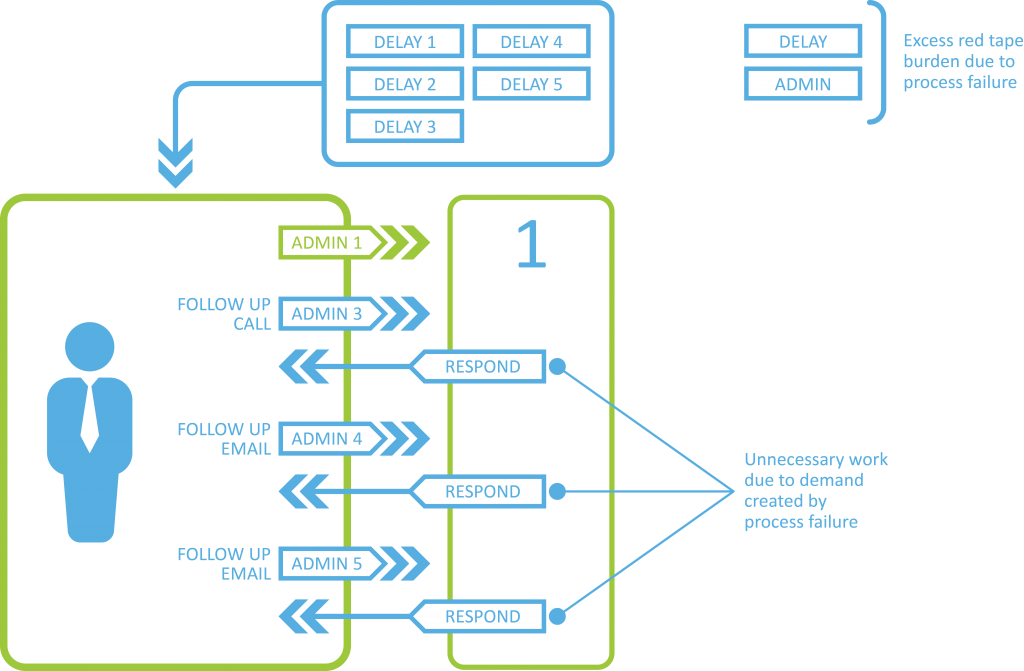 The payoff to APS Managers
The APS is facing mandated targets for red tape reduction for the first time (on the question of targets, more to come).  Departments have to make red tape savings regardless of the state of their budgets or headcount.
Wouldn't it be nice to meet your current workload with fewer staff, and make your red tape savings with the same project? And to train your managers to 'see' these sorts of problems so they don't happen again?
It's not complicated. All it takes is the commitment to get it done.